Last updated: 19 March 2014
On-line banking is very much part of our everyday lives and you may not know this but we're behind some of the most innovative banks drives to make it safer. Over the next few weeks we're going to share our views and news on the eBanking market starting with a series of 5 posts on reasons why digital security devices and other forms of strong authentication can be used to beat off the cyber criminals.
Online banking has two very powerful market drivers — customer convenience and bank profits. Bank customers go online to save time. Banks move operations and transactions online to enable self-service and to lower costs, improving profitability. With bank and customer interests aligned, it is no surprise that the use of online banking has skyrocketed. Unfortunately at the same time, so has online banking fraud.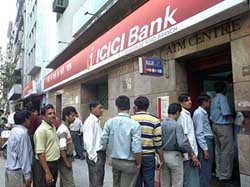 Banks are very serious about protecting customer information and online transactions. They protect customer information with multiple layers of safeguards such as anti-virus, firewalls, geo-location analytics, shared secrets, secure cookies and many other software-based techniques to detect and stop fraudulent transactions. In fact, bank system security is so effective that there's really only one remaining glaring weakness — their clients' PCs.
Cyber thieves have proven themselves very adept at exploiting the vulnerability of online banking customers' PCs, using spyware to snoop login credentials or hijack online sessions, take over accounts and steal money.
To counter the threat of online banking fraud and expand the online channel into other more profitable transactions, here are the top five reasons why every bank should make a digital security device available for high value online transactions, especially for commercial accounts.
1. Direct losses from online banking fraud are significant and widespread
Take the case of Duanesburg Central School District in upstate New York that had $3 million stolen from its bank account by cyber criminals.
Think that is an isolated incident? Far from it. In one of many FBI news releases about operations against cyber criminals in 2010, a multinational operation broke up an international fraud ring that had attempted the theft of $220 million, with actual losses of $70 million from victims' bank accounts.
As recently as April 2011, the FBI announced it had uncovered a string of online bank fraud attacks on small and medium-sized U.S. businesses that resulted in $20 million in stolen funds being transferred to China. While there are many published reports like these, it only represents the tip of the iceberg; most cases of commercial account fraud are not disclosed publicly. In fact, the problem is pervasive.  In its 2011 Business Banking Trust Study, security research specialists at the Ponemon Institute found that 42 percent of small businesses in the U.S. were victimized by some type of online banking fraud last year.